The living room decor is basically all decided, if not finished. We still need to find more paneling to match and sand, white wash and install it (one wall left!), and finish installing the pine plank ceiling and lay a floor. I promise I WILL eventually go through the before during and after as well as a how to for more than just the stone hearth pad.
The bathroom wasn't all that bad really, all we need to do in there is deal with the few patches of plain drywall and figure out some type of door system where the mechanicals are.
The kitchen was like the bathroom, not too much to do, just little bits here and there to tie it all together.
BUT the dining room, bedroom and hallway...woo-boy. The dining room is blah. It's painted in a blah color and has no character. The hall is similar but it also has a poorly built crooked leaning wall that it shares with the bedroom, which has a faux drop ceiling and ugly paneling (the 4x8 sheets, not planks).
So I have a blank canvas so to speak...which means I have come up with ideas and ideas and...uh-oh. Which ones to choose? Which ones will tie in with the rest of the Cottage?
Here's a few, I apologize for borrowing the images but I've followed trails all over and don't know who the original photographer was on them.
I like this idea for the hallway, but I'd probably use something other than birds or plants (tall ships maybe, or copies of old maps and postcards from our area):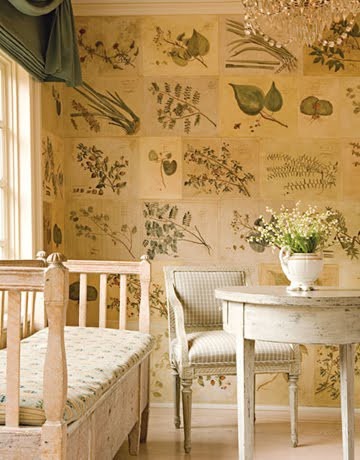 Then there's the ceiling, which was done in pop corn. Unfortunately, it's "popping off" in a few places, so we were thinking of using some wood from some old crates that are past their usefulness as crates (this is faux barnwood, but it is the properly grayed look, the pieces would be much shorter from the crates):
Instead of using old magazine pages, I was also considering paneling with wither blue on the bottom and white on top or the opposite:
And then there's the dining room, which is BLAH. It's painted in a sort of beigy bland color and has no character outside of the scrounged up furniture we've added. I was thinking of distressed paneling like what was have in the living room, but in color (maybe not THIS distressed):
I'm also digging the idea of running it horizontally instead of vertically, but not all the way up the walls
And the bedroom...we already have pine 6" plank paneling at our Old House that we will be removing and replacing with drywall. We figure there's a good chance whomever buys it will do that anyway, so we might as well use it! I think a light wash like this will look fantastic:
And since we have NO CLOSET (we HAD one, but removed it for more room in the living room) I want to build a wall of shelving that will house newly built crates for our clothes.
Kind of like this but a full wall and with wooden crates:
We could stencil fun fake company names on them even, like Genuine Lake Driftwood.